5 Best Outdoor Hammock For Camping Reviews – Buyer Guide 2021
Going from a tent to a hammock is not an easy choice as you don't know how much comfort it will bring.
It's definitely going to be a lighter option, but how to choose one?
How to install it?
Can you install it pretty much everywhere or you need something in particular?
From a distance, the tent gives more stability and reliability than a hammock which seems like the perfect option when chilling in the backyard on a Sunday afternoon…
…..The hammock is not only lighter, but it's also less expensive and…
…..gives the amazing 360-degree view of the surroundings.
Of course, you can take a hammock when hiking only in the mild weather and a sleeping pad for insulation, a rain tarp, a bug net…
……and you're all set for a 3-season hammock.
The details
There are several types of hammocks, going from the type you hang from a stand with a spreader bar, to the ones that are stronger with a single gather point at each end.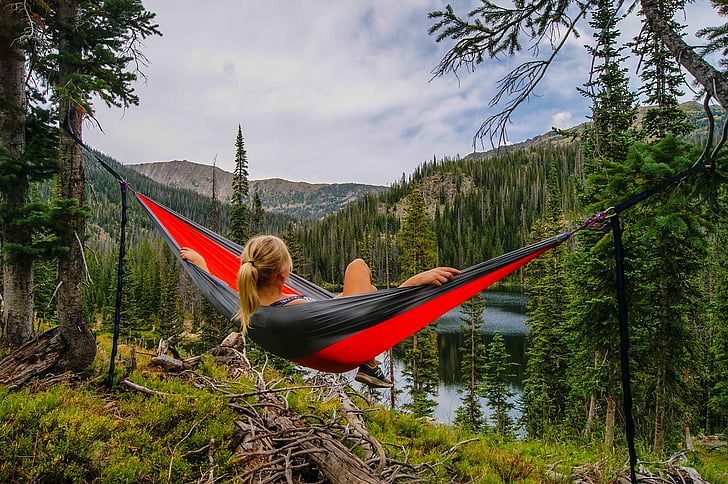 From all of these types though, there are two categories that do stand out, especially from a hiker's point of view.
The parachute nylon single is a long lasting model hammock that is very comfortable for a long time. This is a great option if you want to camp by yourself, for several nights.
A wider and larger version of the single hammock is the parachute nylon double that are designed for two sleepers.
This type of hammock gives extra width for more warmth in colder weather and…less of a risk of having exposed feet or shoulders.
The parachute nylon double brings more comfort to larger camper, but the sleeping of two isn't the most luxurious one.
The ultralight hammock models are made of lightweight materials and have a compact size, which is great for taking them when fast and light backpacking.
The downside is that they are not as comfortable nor long lasting like the parachute nylon full-size hammocks, but are a good option for the small-to-average sized campers.
If the weight of your backpacking is the number 1 thing you care about, this type of hammock is the one to get.
If none of these models fits your needs, maybe you can settle for an expedition/backcountry hammock. This is a hammock made of high-denier nylon and comes with many features in order to create more space inside and bug nets.
How to choose?
First thing to consider when you buy your hammock is to give a good thought on where you're going to use it most of the time. For a camping trip, a bigger and more featured hammock is the one you want.
This type of hammock comes also with a mosquito net and it's typically wider so that it fits a sleeping bag also. if you go at a campsite, you don't need a bugging net and a smaller hammock is enough as it easily fits in a small day pack.
Your height and weight are also important when you choose your hammock. A heavier camper needs a wider, more durable hammock whereas a smaller camper can do with a lightweight hammock.
As it figures, it you go hiking/camping for several days you need to check the weather forecast and keep in mind the rain/the mosquitos/the temperature.
It's always good to get a hammock with a rain tarp and bug net, but you can always upgrade the one you want with the accessories you need.
How to use it?
Most of us that never used a hammock before, would say that sleeping lengthwise is the best choice. This works for a little while, but it puts the body at a weird angle and gets uncomfortable after a while.
If you go through the outdoor hammock reviews, you get to find out that the best way to sleep is to angle the body at a slight diagonal, with the feet slightly higher than the head. You need to keep your body as flat as possible so the exact angle might lean.
Some outdoor hammocks are actually built asymmetrically to give a better sleep to the camper.
Due to the diagonal angle, the right width is important to keep feet from falling out of the bottom. And this is another reason for which roomier hammocks are cozier.
If you consider getting a sleeping pad, you need to know most of them out there bring the risk of sliding off of the hammock.
Some sleeping pads come with a double layer that seals the pad in place and you need to really stuff them inside your sleeping bag to minimize the movement.
Stay away from the widow makers (dead branches) and make sure every anchor point is thick and bomber (at least 8" diameter).
Check the strength of the tree you plan to use as anchor by strapping it around and giving it a good tug.
If you are camping/hiking with your friends, you need to find more than a couple of trees that are close to each other…and this is quite a challenge. Sleeping besides your friends, hammocks side by side is a one-of-a-kind experience, for sure!
And…if it's all clear, keep in mind to always give a 30-degrees angle to your hammock for the best comfort overnight!
Top 5 best outdoor hammock
Legit Camping – Double Hammock
When you're looking for an affordable, yet reliable hammock for your camping/hiking trips, the Legit Camping – Double Hammock is a great choice.
The double camping hammock is wide and comfortable and it's rather easy to install. Everything you might need for its installation comes in its bag. The hammock comes with steel carabineers, rope and tree friendly straps.
The hammock is very lightweight and has a spacious design with 400-pound capacity. It packs very well so it's very portable just as well. The hammock pack so small that is very easy to take along when camping/hiking.
The hammock is wide enough to fit comfortably two sleepers.
You don't have to worry about the strength of the hammock as it's made with military-grade 210T nylon fabric. The hammock is tough and reliable at the same time. The seams are durable and the rope and fabric can take the heavy weight.
You don't really need to worry about the rainy days, as the hammock keeps water away just fine. Additionally, it's khaki color blends you into surroundings, so it's good to take even when hunting.
Let's sum it all up and highlight the main pros:
The hammock is easy to install and comes with everything you need for its installation
The hammock is cozy enough for two sleepers
The hammock packs small and its very portable
The hammock keeps you dry and gives you a good hide
On the other hand, there are few points that count as cons:
The hammock gives greater comfort if installed diagonally
The ties need to be of better quality
The straps are a bit short
All in all, for a very good price, you get a tough, highly portable and comfortable outdoor hammock for two.
ENO, Eagles Nest Outfitters Hammock
Spacious and comfortable, the Eagles Nest Outfitters Double Deluxe Hammock makes a great choice for any hiker/camper.
The hammock is made of 100% Nylon and supports up to 400lbs. it features 70D high tenacity breathable nylon taffeta and is made with triple interlocking stitching.
There are many features that count on the Eagles Nest Double Deluxe Hammock, but one of the main one is its portability.
The hammock is lightweight and packs up and compresses in its own sewn on attached pocket. This makes the hammock easy to carry it when backpacking.
The hammock is easy to setup and comes with aluminum wire gate carabineers and nautical grade line with stain-less steel snap links. You can set it up safe and secure to poles, boat masts, trees and even on the wall.
The Eagles Nest Outfitters Double Deluxe is versatile and long lasting and has a compact shape which makes it great for hiking, camping, boating, travelling and so one.
You feel comfortable and snug in the hammock that also gives enough space for your significant "other".
And, on top of everything, Eagles Nest Outfitters tries to minimize potential waste so the hammock is made with every bit of fabric available in production so this explains the color combinations that differ from the pictures.
Let's list the main pros:
The hammock supports up to 400lbs.
The hammock is easy to setup and take down
The hammock is highly portable and packs small in its own carry bag
You feel cozy and secure in the hammock
There's also a short list of cons:
The hammock is a bit thin
The breathability of the hammock may be improved
You get no suspension straps with the hammock so you need to buy extra
All in all, as it's comfortable, durable and extremely portable, the hammock is a great choice when backpacking into the wild.
ENO Double Deluxe Hammock OneLink Tent System
For a luxurious feeling when camping, you can give it a try with the ENO Double Deluxe Hammock OneLink Tent System. The hammock is large enough to give a cozy feeling to two sleepers when camping.
The hammock is easy to install and features the Atlas straps. These straps are strong as they are agile and enduring. The Atlas strap weighs 11 oz. and boosts to 30 combined adjustment points. The straps are made of Poly-Filament webbing with overlapping attachment loops.
The Pro Fly Rain Tarp is efficient and it protects you against noise, bad weather. The Profly's six guy points give a streamlined shape which is perfect for rainy days.
The hammock comes with 6 tarp stakes that are made of aluminum. The stakes are lightweight, triangular and give a strong structure, though lightweight.
You don't need to worry about bugs as the hammock comes with a Guardian Bug Net that keeps mosquito away all the time.
Let's pinpoint the main pros:
The hammock comes with the highly efficient, great for suspension Atlas Straps
The hammock protects against bad weather conditions, rainy days and cold temperatures
The Bug Net keeps insects away
The hammock is easy to install
On the other hand, some things could use some improvement, so here are the cons:
The hammock loses some heat through its bottom
You need some time to get used to sleeping in it, but this applies to all hammocks
In the end, the hammock is lightweight, portable, cozy enough and easy to install. It protects you from the elements and altogether is a good buy for your camping!
Hennessy Hammock – Deep Jungle Zip XL
For the hiker/camper that wants to try something new and different, the Hennessy Hammock – Deep Jungle Zip XL is a nice surprise.
As it's one of the best outdoor hammocks brands out there, the Hennessy hammock has an asymmetrical side zip entry and a double bottom.
The hammock is wide enough to give comfort to two sleepers. It has a height limit of 7' tall and it can take up to 300lbs. weight.
The hammock comes with everything you need to assemble it: tough suspending ropes (two of 10' length) and Spectra ropes with polyester cover, webbing straps and a rainfly. The hammock is easy to install also.
The rainfly is made of 30D high tenacity 66 Sinylon rip stop which translates into a durable, water-resistant hammock.
The hammock is a great option for 3-season. It comes with a 100% hammock-proof double bottom with two layers of tightly woven 30D high tenacity water resistant nylon.
The entrance zipper is tough and has two double sliders. The hammock is compatible with the Double Bubble Insulation Pad and you can buy it separately. The hammock is lightweight and easy to carry around.
The Hennessey Hammock Jungle Zip comes with rainfly, bug net, ropes, webbing sacks and stuff sack with directions.
Here are the main pros:
The hammock is great for the jungle
It comes with everything you need to assemble it
The hammock comes with bug net, rainfly
It's wide enough for two sleepers and it's very comfortable
As for the parts we don't like that much, here they are:
The hammock doesn't come with a snake skin
It's a bit challenging to use the sleeve for mat
As it's comfortable, lightweight and protective, the hammock makes a great choice for the 3-season hikes in the big jungle.
Clark NX-270 Four-Season Camping Hammock
When you plan not only to spend few hours in the woods, but also several days, you need a hammock that gives protection all the way.
The Clark NX-270 Four-Season Camping Hammock sustains up to 300lbs. (136kg) and is best for people under 6'9". It's made in our USA from American fabrics and goes for all year long.
The hammock is not only versatile but it also comes with many useful features and qualities.
The hammock has a breathable Weather Shield layer that zips over the No-See-Um mosquito net. This way the hammock transforms into an enclosed tent, keeping you warm and protected by wind, rain or snow.
The insulating pocket system keeps warmth inside so that you don't need insulating pads or warmer camps. The access for the pockets is easy from the inside through the zippers. The insulating pockets give also storage space for your boots or other gear. The hammock gives more options for storage though as it has two more pockets inside, great for a flashlight or a pistol.
The hammock's ropes are made of water-repellant polypropylene and the spring poles are made of fiberglass. The poles are flexible for a roomy interior.
When we talk about the extra features, we also have to mention the rain fly that comes along. The rain fly is very large and is made of high quality sil-nylon.
The hammock is easy to install, even though it's a different way from the typical hammock. The straps are long and they never stretch either. The hammock is strong and may be also placed on the ground thanks to its tough fiberglass poles.
Here are the main pros:
The hammock comes with a water-repellant Weather Shield
The hammock transforms into a well-sealed tent
There are 6 pockets that give storage space but also provide comfort and warmth
The hammock is easy to install
As for the cons, there are only some minor issues:
The Weather Shield is not fully detachable
You need a tarp for the hammock
All in all, you get a hammock that gives you great protection, while remaining breathable and lightweight, for all year long hiking /camping experiences.