On the Road Again: 9 Amazing Summer RV Destinations
Looking for an RV destination for your summer road trip? Summer RV trips provide a great way to travel.
You don't need to worry about finding lodging during the season. You don't need to spend $100 an up at a hotel. You can eat breakfast when you want to. Heck, you can cook it up yourself right at your RV campsite.
The only problem: deciding on an RV spot to cool off during the heat of summer. You've got so many choices. In this post, you'll discover nine beautiful RV destination choices to escape the summer heat. Let's hit the road!
1. The Oregon Coast
Looking for an RV paradise? You'll find it on the Oregon Coast. Head to Pacific City and Cannon Beach. While you're there, discover puffins on the haystack rocks. Along your journey, you'll see 11 lighthouses that punctuate the coastline.
Everywhere you look you'll find raw, natural beauty and plenty to see and do. such as Fort Stevens, the home of an abandoned military facility.
Ride a dune buggy in the sand in Florence. Make sure to bring your camera. You'll see endless brilliant sunsets to snap off Route 101. Shoot pictures of the cliffs. Then settle in your RV lodging to relax for the evening.
2. Rocky Mountain National Park, Colorado
Another great RV destination: Rocky Mountain, National Park. While you won't see snow in August, it's possible to catch some flurries in spring and early summer.
The summer roads offer the best conditions for travel. You'll be more comfortable behind the wheel with little possibility of slipping and sliding from heavy mountain snow.
Rocky Mountain Park is situated two miles from Denver if you're craving city attractions and dining. But there's plenty to do in the park.
Go on a hike. Witness wildlife playing in their natural habitat and take in plenty of breathtaking mountain views.
The area offers a variety of RV campgrounds in Lyons and Estes Park. For the favorites, stay at Manor RV Park, providing a host of amenities or Estes Park KOA.
3. Yellowstone National Park, Montana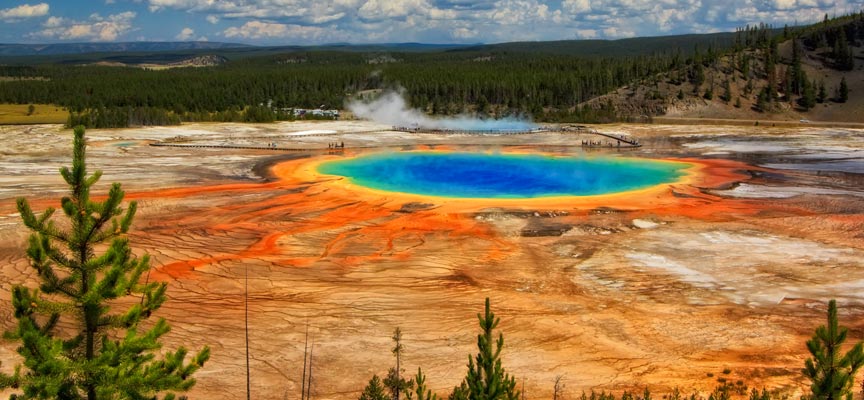 Summers bring cool weather in Yellowstone. Montana makes a pleasant RV destination to escape the summer heat. But you'll miss the freezing winter.
During the day, Yellowstone provides pleasant daytime temperatures with some breezy evenings. You'll discover a plethora of places to park your RV in Yellowstone.
Want to stay close to the park? Then head to Fishing Bridge RV Park, the only campground with sewer hookups, water, and electricity.
If you don't mind being a short distance from the Park, stay at Grizzly RV Park in West Yellowstone, Montana. Or park your RV at Ponderosa Campground in Cody, Wyoming.
4. Blue Ridge Parkway
Blue Ridge Parkway holds some of the most captivating mountain views spanning 469 miles. The road goes from Swain County in North Carolina to Virginia's Rockfish Gap.
Discover 300 glorious miles of forestlands, rock tunnels, a plethora of wildlife. And don't forget Smoky Mountain and Shenandoah.
Visit Thomas Jefferson's Monticello estate in Charlottesville, Virginia. Or North Carolina's amazing Chimney Rock. Then head to Asheville to explore the Biltmore Estate, once home to the Vanderbilt family.
5. California's Coastline
California's coastline offers a wide range of natural beauty, history, entertainment, and wildlife to experience. A beach day along the Pacific Ocean from Los Angeles to Monterey is unlike any other.
While in Los Angeles, experience Hollywood glamor in Los Angeles. Park your RV and take a walk along the Hollywood walk of fame. Or see the events and show in the Chinese Grauman Theater.
Visit fishing towns along the coast, tour Hearst Castle. See Big Sur one of the most beautiful seascapes in the world.
Or take a detour off the coast for some wine tasting fun in Paso Robles. It's rumored to be half the cost of Napa or Sonoma.
6. Yosemite National Park, Central California
With nine campgrounds that accommodate RVs, Yosemite National Park makes a great RV destination. But you'll need to plan. You'll need a reservation if you're planning on visiting between April and September.
Know this: the park has no water, electrical, or sewer hookups. However, the park offers dump stations. Yosemite is huge. It features several waterfalls, mountains, 100 lakes, and even a few beaches.
Scale El Capitan if you're adventurous. Discover Glacier Point, challenge the granite, Half Dome. Or choose from 800 miles of hiking trails.
7. The Grand Canyon
An amazing RV destination: the Grand Canyon. The Canyon stretches 280 miles long and 18 miles wide.
If you're looking for the authentic road trip experience, park your RV, stay in the Canyon Motel and RV Park.
It's located below the South Rim in Williams. You'll be close to Kaibab National Forest, Grand Canyon Railway, and Bearizona, a wildlife park you can drive through.
The park features hotel rooms in historic railcars, a pool, a general store, and a garden patio. While at the Grand Canyon, enjoy whitewater rafting, rim hiking, and even ride a donkey.
8. Albuquerque, New Mexico
A popular time for a road trip in Albuquerque, New Mexico is during the Balloon Fiesta. People come from miles around to watch hot air balloons span the city.
The town features 18 parks with RV accommodation which makes it a super RV destination. But if you come during Balloon Fiesta, you need to book a three-day reservation.
Smell the aroma of roasting chiles, admire the beautiful natural landscape, and enjoy the festivities. Points of interest include Cibola National Forest and Petroglyph National Monument.
9. Napa and Sonoma Wine Country, California
Nearly every state boasts a wine country. But no one comes close to Napa and Sonoma Counties that make up 80% of the wine in America.
Looking for an RV destination filled with wine tastings everywhere? Then you must visit California's wine country.
In this region, drive through the Redwood Forest, do some hiking, and take part in abundant wine tasting activities.
Stay at Calistoga RV Park and walk to their art center and a dozen wineries. Try your swing at golf. Or stay at the Cloverdale Healdsburg KOA in the heart of the Alexander wine region. Or in Sonoma County near Russian River winery.
Taking the High Road: 9 Cool and Captivating Summer RV Destination Spots
A visit to these cool, amazing RV destination spots makes an awe-inspiring summer road trip. With low-cost RV accommodations, you'll be able to do more on your vacation on the road.
Looking for more outdoor travel destinations ideas and the tips to go with them? Explore more on our blog.